A Prayer, Plea, and Plan
Lessons powered by the Word of God!
These lessons deal with prayer, our pleas, and our plan as it relates to the revealed will of God. Let's compare what we pray for, what we plead for, and what we plan for with the written record. Man's opinions are but for a day. God's word is lasts forever.
PLACE: NORTH RIDGEVILLE CHURCH OF CHRIST (OCT. 2021)
Lesson
Author
Date
File

A Prayer - Romans 10:1-4 | John 17

Wallace, Steven
2021.10.03
pptx,video,

Bible Pleas 1 - Romans 12:1, 2 | Acts 11:23 | 1 Corinthians 1:10

Wallace, Steven
2021.10.10
pptx,video,handout

Bible Pleas 2 -

Wallace, Steven
2021.10.17
pptx, video
Revelation And Creation

PowerPoint

and Audio Material
Submitting to God's Will: A Prayer, A Plea, A Plan
Introduction:
What is ours? Essentially, what is our prayerful purpose as the body of Christ? If you were to ask that question to several different churches, what do you suppose the answer would be? Would it match the biblical answers?
For some, their prayer consists most definitely toward numerical growth. For such growth, the rules of Christ are set aside, ignored, or tossed out to justify their programs. Their prayer, plea, and plan are justified essentially by whatever works—the end justifies the means. Some have even tossed out religion in general—the church without religion. But many churches that are labeled "of Christ" should also plead guilty; their plea doesn't match Holy Scripture but rather draws from the halls of man's imagination.
We live in a world that both tempts us and hates us. Because of such, the name "church of Christ" has been minimized by some and altogether replaced by others with non-controversial expressions "Christians meet here." They don't want to be associated with all the negative connotations that existed when brethren militantly exposed the errors of denominationalism.
Yet the Lord's way brings discontentment to worldly ambitions and carnal religion (Lk. 2:34; Jude 1:15; Acts 28:22). The Lord's solution is not to become more worldly or even to tone it down, or tolerate what the world approves. Rather we are to know that it hated Jesus before it hated us (Jn. 15:18, 19). We don't go out of the way to become offensive, but in holding to God's word, we will become despised (Jn. 17:14). 1 Jn. 3:13, "Do not marvel, my brethren, if the world hates you."Entertainment has replaced evangelism. Coffee, plays, skits, food, fun, and frolic have replaced the drawing power of the cross. The positive mentality and self-esteem message has led many pulpits to abort the message of repentance. Humanitarian efforts have detoured many from dealing with the single greatest plague that has diseased the soul of man—sin. Where plague, pestilence, and disease last but for a moment, sin affects a person in eternity.
What is our prayer? What is our plea? What is our plan? Is it the Lord's?
Discussion:
THE PRAYER
Romans 10:1-13.
Is our prayer to love the lost enough to try to save them? Connected to evangelism are "desire" and "prayer." How effective can evangelism be without these other two? This holy desire and fervent prayer will safeguard the Christian from becoming stale, complacent, discontent, and hypercritical.
Consider the parallel. Judas Iscariot didn't care about the poor, yet was first to criticize how things were spent by referencing the poor (Jn. 12:3-6). He didn't have any care/desire/concern for the poor and judged Mary's sacrifice as a waste. In the same way, when people do not care about the spiritually poor, they can also become hypercritical of the means and measures that are done to please the Lord. Hence sermons that are approved by God can become viewed and judged as unapproved, offensive, and a complete waste of time (too militant, soft, vague, specific, etc.).

"For if I still pleased men, I would not be a bondservant of Christ" (Gal. 1:10b).

My hearts' desire and prayer to save the lost will impact my interaction with them (cf. Col. 4:5, 6). I will strive to get to know them (Mk. 2:15-17). Jesus engaged with sinners to have the opportunity to call (Thayer, invite) sinners to repentance. How much effort do we spend to get to know sinners to call them to repent? I commend the desire by several here to go out of their way to greet those who visit.

Salvation is through submitting to the righteousness of God (10:3) through Christ (10:4). While we reach out to try to save the lost, we alone cannot save them. We can only call and teach them. They must respond in faith, confession, and then call on the name of the Lord. Who is the Lord that we must confess? Jesus (10:9). Jesus. Jesus saves (cf. Matt. 1:21)!

John 17:20-23.

Do we pray for those who have believed as Jesus did?

Do we pray that we may be one as Jesus and the Father are one? Is our ambition to draw disciples together as one? We have seen those who draw away disciples to themselves with a "look at me" posture. Do I seek to draw together or apart?

What is our prayer? We indeed are to pray to God with words in reverence and godly fear. Notice how Jesus addressed God, "O righteous Father!" (Jn. 17:25).

God knows our prayers by our behavior. Our works pray to God too you know. We may think that only our mouths pray to God when we formally address the Great I Am. Yet, unworded prayers" ascend to God also. Our actions can cry out to Him. Genesis and Malachi underscore this very real point.

The "outcry" (outrage) against Sodom had come up to the Lord (Gen. 18:20, 21). The outcry stands in relationship to the sin! It was great and the sin was very grave. The Lord was going to "see" (inspect, consider). The point is that God is fair in judgment and thoroughly inspects the actions. Violence and immorality cry up to God against man and calls for judgment (Gen. 19:12, 13; cf. Gen. 4:10). Our actions will not go unnoticed.

Likewise in Malachi 2, the men's mistreatment of their wives came up to God as prayer through the tears of their wives. God's altar was covered with tears and God would not regard their offerings with goodwill (2:13, 14). The domestic breakdown canceled the public offerings and cried against the worshipers. Also in Malachi 2:17, we find their common conversations with each other turned into a prayer against them. They wearied the Lord with what they said. In contrast, the conversations of those who feared God were also noted in a positive way (Mal. 3:16-18).
Conclusion:
What is our heart's prayer? Is our prayer to be unified with God and with each other? How often do you and I pray for that? What do our actions pray for? Unity becomes a tool for effective evangelism. Remember, Jesus didn't pray for the world (17:9). The world hates His disciples (17:14). Yet He prayed:
The world may believe that God sent Jesus (17:21).
The world may "know" that God sent Jesus (17:23).
The world may "know" that God loves His children even as He loves Jesus (17:23).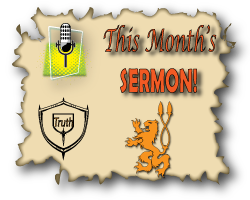 Sermon and charts are supplied with five questions on the subject of repentance and remission of sins.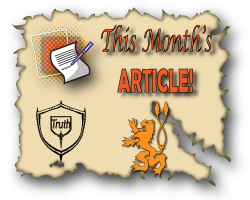 Comparing presidential pardons with what went on at Calvary and the gospel's course of pardoning sinners.